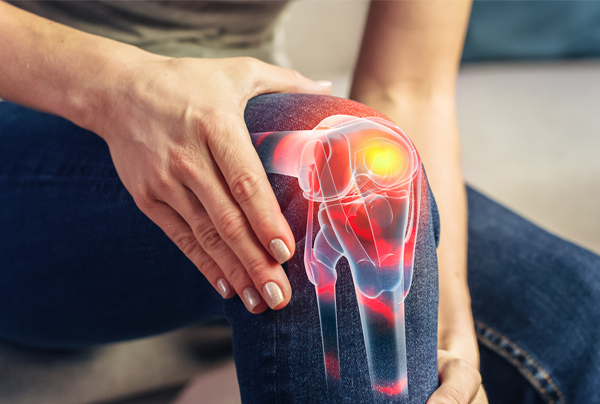 Knee pain is widespread among adults, likely because the knee joint is one of the most utilized joints in the human body. Knee pain can have a variety of causes, but it is most often associated with general wear and tear from typical day-to-day activities. More severe injuries can also contribute to lasting knee pain, most common in athletes or older adults.
Here are some of the leading causes of knee pain:
Injury
As previously mentioned, knee injuries are a common cause of knee pain. Some of the most common knee injuries include sprains, ligament tears, meniscus tears, fractures, and joint dislocation. While these injuries are most common among athletes, anyone can suffer from one of these knee injuries. Thus it is important to stretch and build muscle around your knee to protect it from damage.
Tendonitis
Tendonitis is the inflammation of tendons in your joints, contributing to significant soreness and pain in your knee. Most often, tendonitis is caused by overuse of the knee joint during activities such as running, jumping, or cycling but it can also be the result of an injury.
Arthritis
Osteoarthritis is the most common type of arthritis that affects the knee joint. Osteoarthritis is characterized by the degradation of the cartilage in your knee joint or "wear and tear". Cartilage in your knee acts as a cushion between the bones in your joint, thus its degradation causes intense pain and discomfort as the hard bones underneath the cartilage start to rub together. Osteoarthritis results from cartilage wearing away over time, sometimes made worse by stress on the joint. Rheumatoid arthritis can also contribute to knee pain as the autoimmune disease causes joint inflammation and destruction of the cartilage.
Because many causes may contribute to your knee pain, it is important to talk to your doctor about the specifics of your pain. The quicker you can identify the cause of your knee pain, the faster we can treat it, preventing more damage to the knee joint structures.
AUTHOR: Dr. Andrew Ehmke is a board-certified and fellowship-trained joint replacement surgeon specializing in robotic-assisted and minimally invasive hip and knee replacement in Chicagoland and NW Indiana.