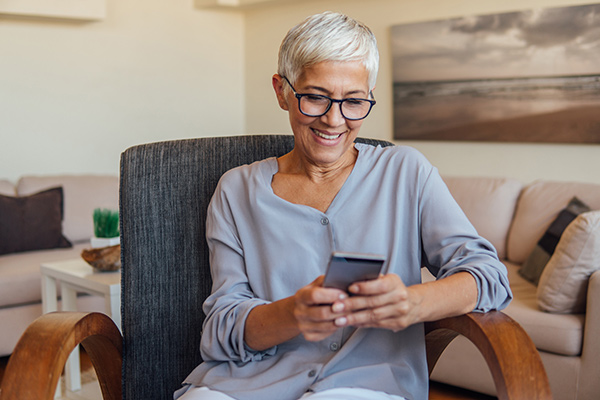 My philosophy as a doctor is once I get to know you as a patient and understand your goals, we work together to create a treatment plan that best suits your lifestyle.
When you elect to have knee or hip replacement, we walk through this together – in relationship by combined action. My job as your surgeon doesn't end when surgery is completed. Recovery is a vital part of a successful outcome.
To work together through recovery, my staff and I use automatic text messages to keep communication with you after joint replacement. These informative messages help guide you through the recovery process with information such as:
What to Expect
Helpful Tips
Exercise Tips
Instructional Videos
Inspirational Messages
Supportive Reminders
In addition, my patients can ask questions to the texting program on over 300 topics and receive answers that I have written. Think of it as a library of information at your fingertips. Everything from when you can start showering to what options for pain medications are. We know the more informed you are as a patient, the better your outcomes will be.
In a study conducted by STREAMD evaluating the use of text messages to communicate information to patients, 96% of patients said they felt more connected to their care team. 99% of patients said the text messages had a positive effect on their recovery.
We are hearing the same thing from our patients.
"The text messages really helped my recovery with all their support and helpful hints, made my recovery much easier. Thank you Dr. Ehmke, I can walk without pain." -Janice
"The system of doctor/patient communication they use is flawless which never left me wondering what I should be doing prior to or after surgery." -Michael
"Love the text community which kept me motivated with great medical and exercise tips throughout my healing (knee replacement)." - Freda
"The texts that he shares daily are inspiring and helpful! He informs you of what you need to do and what you'll be experiencing!" -Denice
My staff and I walk with you through recovery with texts. Helpful tips and information along the way helps you have better outcomes. We want you to be informed, encouraged, and inspired to achieve your goals. We are in this together.
Dr. Andrew Ehmke is a board-certified and fellowship-trained joint replacement surgeon specializing in robotic-assisted and minimally invasive hip and knee replacement in Chicagoland.
Tags: Joint Replacement Surgery, Recovery, Knee Replacement, Hip Replacement, Dr. Andrew Ehmke