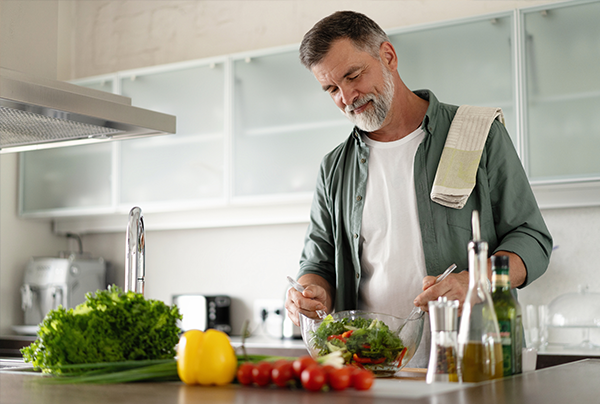 Good nutrition is an essential part of living a healthy lifestyle and maintaining a healthy body. It is especially important when having joint replacement surgery. The ligaments, muscles, and bones of your joints all require certain nutrients to stay healthy and heal from damage. When preparing for hip and knee replacement, it is important to know what foods to incorporate or avoid in your diet.
Food is medicine and can play an important role in preparing your body before surgery, and helping you heal and recover after surgery. Your joints require lots of nutrients to function properly, including high-quality proteins, complex carbohydrates, healthy fats, calcium, and essential vitamins.
Eating anti-inflammatory food can help reduce swelling at the surgical site and promote healing. Omega-3 fatty acids, antioxidants, and amino acids, will help promote an anti-inflammatory response.
While it may be simple to identify what nutrients are good for your joints, it's not always easy to know what foods contain these nutrients. This list includes highly nutritional foods that will help prepare your body for joint replacement:
Seeds and nuts
Fatty fish
Leafy vegetables
Beans and lentils
Root vegetables
Olive oil
Whole grains
Berries
While there are many foods that encourage a positive surgical outcome, there are also foods that may discourage it. A poor diet can significantly impact the outcome of your hip or knee replacement. Know what foods to avoid that can affect your ability to heal properly. Limit your intake of caffeine, alcohol, excessive sugar, and excessive salt before and after surgery. Only eat processed and fried foods high in fat in moderation.
Patients can better prepare for hip and knee joint replacement surgery by eating foods that promote good health and immunity. Eating nutrients that are good for your joints after surgery, can help your body heal and recover.
AUTHOR: Dr. Andrew Ehmke is a board-certified and fellowship-trained joint replacement surgeon specializing in robotic-assisted and minimally invasive hip and knee replacement in Chicagoland and NW Indiana.