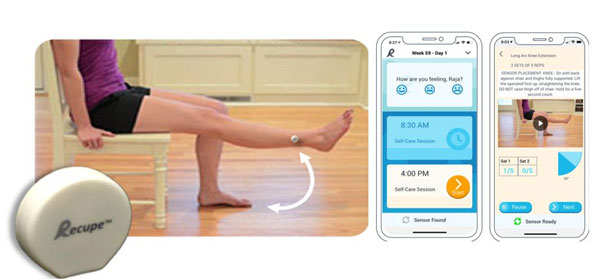 Recovery after hip and knee replacement is changing for the better thanks to technology.
Joint replacement is a process that begins before surgery and ends after full recovery. This life-changing procedure is helping people of all ages live pain-free, active lives by improving joint function and quality of life.
Technology is changing recovery by engaging and educating my patients through a wearable device and app. Plethy Recupe is a removable sensor patients wear during the day that connects to an app on their smartphone. The app allows patients to communicate throughout their recovery with our office.
Not only do patients have closer interaction with us, but this technology also allows us to see how our patients are recovering. We can see many aspects of the patient recovery and experience including range of motion, steps taken and pain levels to ensure that recovery is progressing as expected.
Through wearable technology, we can send prescribed exercise programs and messages directly to our patients. And if concerns or questions arise, patients can send pictures of their knee or hip directly to us allowing us to follow their recovery more closely.
Providing information at consistent timely points along the way helps patients have positive outcomes and optimal care throughout knee replacement recovery.
If you are considering knee replacement, ask me about our wearable sensor and app, Plethy Recupe, that can help you through the recovery process.
Dr. Andrew Ehmke is a board-certified and fellowship-trained joint replacement surgeonspecializing in robotic-assisted and minimally invasive hip and knee replacement inChicagoland.